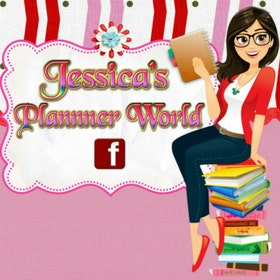 Continuing our interview series Shopping Small (With Big Heart), I am truly happy to be introducing you to Jessica Ares owner of Jessica's Planner World on Etsy.
Studio Elaine ~ What is your background before being your own boss, or do you work both a 9 to 5 and run your own business?
Jessica's Planner World ~ I have a degree as Medical Assistant and I am a Wedding and Event Planner. I also run a pageant and I organize fashion and bridal shows. I have always loved being my own boss, the creative side of me comes from my dad, he has always relied on himself for success. His crafty side is amazing, being in upholstery and carpentry.
Studio Elaine ~ What first inspired and motivated you to open your own business?
Jessica's Planner World ~ My own ideas, I can work perfectly in the team environment, but with that being said, I love giving my ideas to a t, love talking about it and making it work. I strive for the best and when you strive, you love being your own boss. There is a movie that totally inspired me and it's called, "You've Got Mail", I loved the idea of having a bookstore and coffee shop together, but it was hard for me due to lack of funding, so I just stood with an online store. It works well and helps pay the bills, this means it's just as successful as the store front. I still want to one day have my own store front, it is never too late to make your dreams come true.
Studio Elaine ~ What does a day in the life look like? Walk us a little through the juggling act of balancing your business and home.
Jessica's Planner World ~ A day in the life, in my world is pretty crazy, sometimes it can be relaxing while some days it can be chaotic.
I always start my day by thanking God for the opportunity, then I make my bed, shower, etc… start brewing coffee while making a healthy breakfast which can help me stay strong and active throughout the day.
While that is on the works, I check for emails and orders from Jessica's Planner World, sometimes after that I drive my daughter to work, if she is not having a work day I work on orders, print, and send. I also update the website, create more planner goodies, or just visit Michaels, Hobby Lobby, A.C.Moore and Target for deals.
Well once my day is done you know the rest, dinner, chores, laundry and more work on Jessica's Planner World, lets not forget I may have to meet a bride or client for events, check venues for shows, and I also run a chapter called Kick Ass Red Lipstick in Massachusetts, which helps women battle self esteem issues.

Studio Elaine ~ How has social media impacted your business and how you conduct business?
Jessica's Planner World ~ Social Media is an amazing way to grow your business, it all depends how you use it.
We need to focus our tools on what clients, friends and family would love to see. One word of mouth can gain upto 100 clients a day if it's done correctly and wisely.
I try to stay on top with my business, giving my clients what they want, i.e. giveaways, coupons, freebies, and much love…

Studio Elaine ~ Looking back at how you first started as a small business owner, what would you have done differently, knowing what you know now?
Jessica's Planner World ~ Absolutely, I would strive more to get funding I needed to make it possible.
Studio Elaine ~ What made selling on Etsy appealing to you vs. starting your own online ecommerce site?
Jessica's Planner World ~ I just wanted to try something new, there is no difference, I've tried it all. Even though I have an Etsy shop I am working my way to creating a website with tools not included on Etsy shops.
Studio Elaine ~ Obviously I love your shop and items, what are you most proud of in your shop, and where do you find your creativity and inspiration?
Jessica's Planner World ~ I am most proud of my paper clips, how much love and dedication I give to it. I am working on adding stickers, dashboards, bookmarks, notepads and more. My creative inspiration is web designing.
Studio Elaine ~ You are obviously very creative and talented, besides the items you create for your shop, what are some of your other talents, and what alternate creative outlets do you pursue?
Jessica's Planner World ~ Web designing, flyers and post cards.
Studio Elaine ~ Why do you feel shopping small is important?
Jessica's Planner World ~ Supporting small business is very important because we all want to grow equally, we want to be successful, big, and well known around the industry
Studio Elaine ~ How do you feel the role of women as small business owners has impacted you, and what do you think the major challenge as a woman in business has been for you?
Jessica's Planner World ~ You know I've had good and bad impacts when it comes to women business owners. There is a huge battle and fight in this industry, women tend to burn each other instead of supporting, helping and lifting each other up. But I thank God my capacity and maturity is amazing, because I have been strong and learned the hard way, the bad experiences have helped me better myself, my business and connection with other women.
Studio Elaine ~ What do you want our readers to specifically know about you and your shop?
Jessica's Planner World ~ I am a woman of many hats, I can do everything and anything anyone wants, if you do not see something in my shop and would love to see it, just say so and I will work on it. I want my readers to know I take pride in my work, I love what I do because I want my customers to be treated as I would want to be treated.
Studio Elaine ~ What advice would you give to anyone out there, who thinks they might want to open their own small business?
Jessica's Planner World ~ Research first, inventory second, grand opening third.
Studio Elaine ~ I'd like to thank Jessica for participating in our interview series. If you haven't done so already please visit Jessica's Planner World on Etsy and follow her on Instagram. She is a dynamic woman and an inspiration to others trying to achieve their goals.
Click on the links below to connect with her shop and social media. One of my favorite items, from her shop are the New Black Fabric Rosette Planner Clips, linked above. They are striking and would make a great addition to any planner clip collection.